Right now youtube provide youtube premium subscription at just ₹10 for 3 months. Today i will show you how you can subscribe that premium membership easily. Make sure after 3 months youtube will charge ₹129 per month once the billing period is over.
How To Buy YouTube Premium Subscription At ₹10 For 3 Months?
Click here and check this premium offer is available or not for you on your youtube account.
If you are eligible for this offer then you can also see the same page like "You received an invitation from a friend! Sign up with your special offer today", same as the image above.
If you are not able to see that same dashboard same as screenshot then open this link with another fresh google account.
When you are eligible for this offer the click on Get YouTube Premium button.
After click on Get Youtube Premium button you will have to see different payment options like Debit/Credit Card, Netbanking, Pay with UPI, Redeem Code. Choose the best option and get that 3 months subscription at just ₹10.
What if you not able to see different payment method?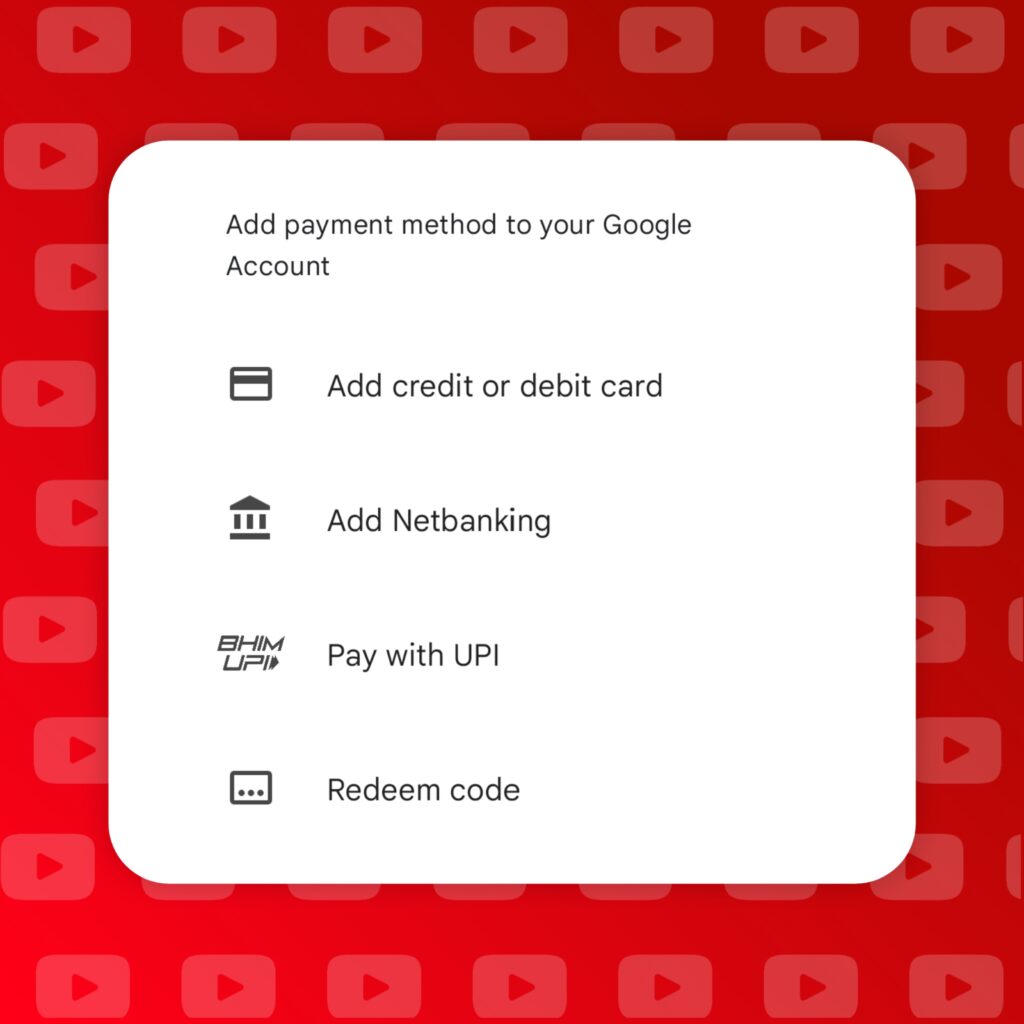 Open google playstore account with same google account where you want that youtube premium subscription.
Now click on you profile image at top right corner and select the third option Payments And Subscription.
Select the first option Payment Method
Now you can choose your favourite payment method here ex: Debit/Credit Card, Netbanking, Pay with UPI, Redeem Code.
If you want to purchase that youtube premium subscription with the help Debit/Credit Card, Netbanking, Pay with UPI then first add your details here and go again on youtube premium subscription page. Now you will able to purchase that youtube premium subscription easily.
---
---
But, if you want to buy that premium membership with the help of Redeem Code then follow all the steps with are given below.
First go Paytm or other platform where you buy an Google Play Recharge Coupon. After successful purchase you will recieve your coupon code on your mail in a few seconds.
Now again open Google Play Store and go to Payment Method in Payments And Subscription selection.
At last you are able to see Redeem Code at last. Just click on that and enter the google play gift card coupon code which you previously received from Paytm or other platform.
Now go back to the youtube premium subscription page again and select the Google Play Balance as a payment mode.
To confirm whether you get that youtube premium membership or not, click here it will show your premium subscription.
Note: This offer is valid for limited time!